Complimentary Facilities Management Webinar
How to Successfully Double the Life of Your
Roof & Defer Capital Expenditures through
Roof Restoration
Wednesday, August 2, 2017 • 10-11 AM ET
(9 AM CT, 8 AM MT, 7 AM PT)
Please join us and other facility management professionals from across the country for this complimentary facilities management webinar.
Too often do we see roof restoration projects performed without proper due diligence, ending in less than satisfactory results. Before you engage in any restoration project, evaluating the condition of the existing system and all related material is vital. Each component of your roof system must be evaluated individually and only after you have confirmed that your roof is capable of being restored, can you successfully engage in a restoration project. There are a large variety of products that claim to restore roof membranes, but selecting the right products and means of application for your particular roof system makes all the difference. This presentation focuses on the do's and don'ts of roof restoration.
LEARNING OBJECTIVES
1. Establish best practices for roof restoration based on roof type
2. How to determine if a roof is a good candidate for restoration
3. How to determine if roof restoration makes financial sense for your project
4. How to select the proper products and applications for your roof system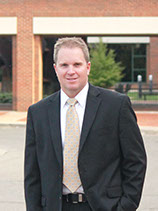 Chris Cogan
Regional Manager, Detroit, Roofing
Mr. Cogan has his Bachelor of Science in Construction Engineering and has been involved with StructureTec since 2005. His current role is Manager of the Roofing Division and he is responsible for the management of projects from evaluations, roof system design, preparation of contract documents, and quality control procedures during construction. He is experienced in steep and low slope roof system technology.
Nick O'Hare
Corporate Quality Manager
Mr. O'Hare has been involved with managing numerous building envelope and paving projects for StructureTec in the corporate, K-12, higher education, and healthcare industries. As Quality Manager, he focuses on understanding customers' needs and designing solutions to meet those needs. He prides himself on his commitment to achieving ultimate customer satisfaction, and providing value through all StructureTec programs. Mr. O'Hare is actively involved in IFMA, CURT, DBIA, AFE and ASHE.